9" HOLDEN VE SERIES2 SSV / SS / SV6 SOLUTION
Availability: Call to Order
Collection: HOLDEN
Sku: VES2G1B-F309
Brand: ALPINE
Sporting luxury design exclusively engineered for your VE Commodore Series-2
Impressive as it looks, Alpine's Halo9 infotainment with exclusively designed and engineered VE Commodore Series-2 sports solution takes your driving experience to the next level.
The incredible 9-Inch display is simply stunning in the dashboard bringing a premium feel and aesthetic upgrade to the interior, all while offering the latest technology, entertainment and convenience.
Equipped with Apple CarPlay and Android Auto you have a multitude of smartphone options available. You can get directions with navigation apps, make calls, send and receive messages and listen to music all in a way that allows you to maintain full focus on the road. Using your smartphone apps through the 9″ capacitive display is snap or you activate Siri and Voice Recognition for minimised distraction.
Enjoy all your favourite audio with a limitless amount of options such as music apps including Spotify, Vox, Apple Music, Amazon Music, Podcasts and even DAB+ digital radio providing a wide range of digital only radio stations.
A wide range of entertainment options are made possible through the iLX-F309E with HDMI and USB connection allowing for high quality video and audio playback. What's more DVD and CD's can be played back in high resolution with the optional DVE-5300 optical drive.
The 7-Inch Dynamic Drive Assist capacitive display elevates your vehicle interface, giving you smartphone-like and intuitive command of climate settings. Even more thrilling, the sports display mode, provides real-time vehicle information such as speed, tachometer, gear shift, brake and acceleration, oil temperature, voltage and much more, there is even a stop watch letting you capture acceleration and lap times when your out on the track. Making parking easier then ever, the 7″ display shows visual representation of factory installed park sensors when engaged, plus you can add-on an optional Alpine front and rear camera system to the Halo9 9-Inch display.
Smartphone Navigation 
The iLX-F309E includes a precision GPS antenna which ensures a pin-point and highly accurate navigation experience when using Apple CarPlay and Android Auto. Voice control works seamlessly with this function allowing you to dictate your destination and start driving.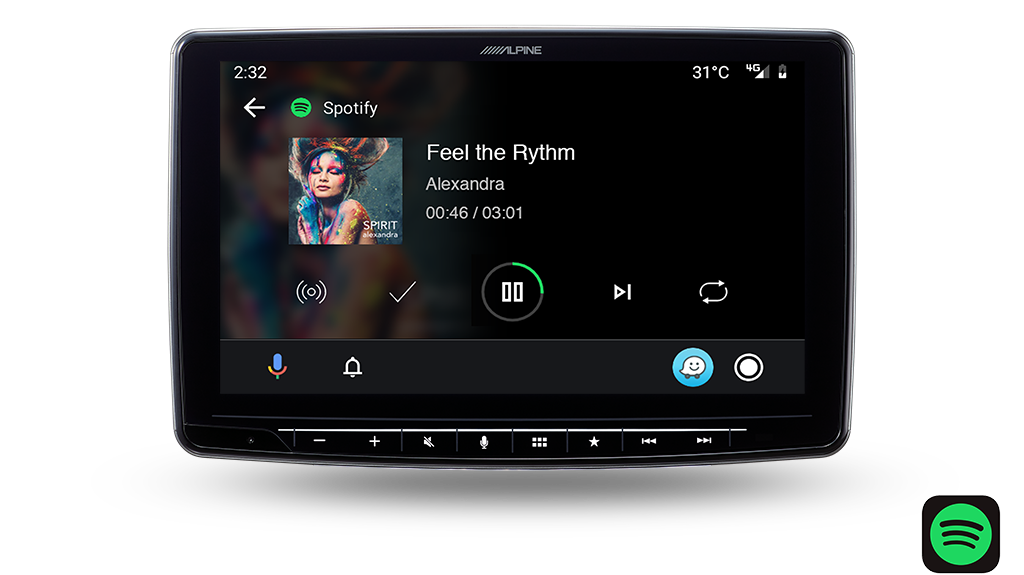 Spotify
Access the worlds music library with millions of tracks and episodes available on Spotify. When using Apple CarPlay or Android Auto with the Spotify app, you can play the latest songs from your favourite artists, charts and playlists. Plus, browse through the collections of friends, artists, celebrities and radio stations all from the comfort of the driver's seat. Furthermore, get unlimited skips, no ad interruptions and much more with the Spotify Premium paid subscription.
Alpine Exclusive Solution for Seamless Fitment and Installation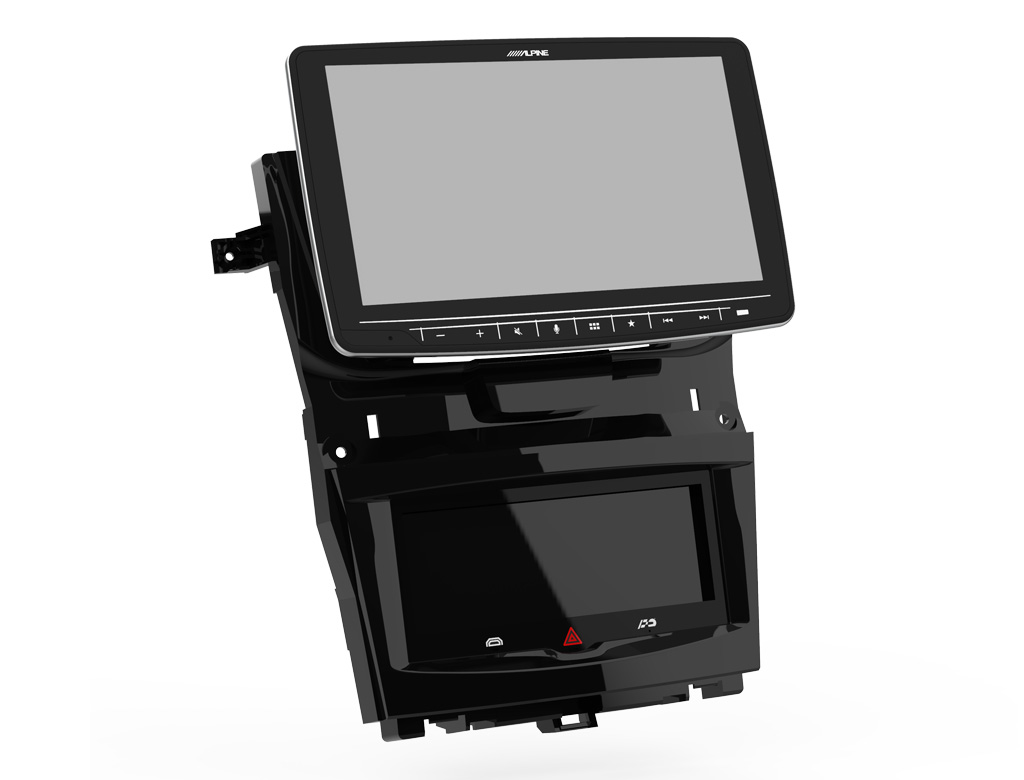 Engineered for Alpine Halo9
Alpine has engineered the VE Series-2 solution specifically and exclusively for Halo9. Ergonomics and aesthetic integration is paramount, the angle and positioning of the display is perfectly set for ease of use and pinpointed into the dashboard for a superior 'OE style' upgrade to your vehicle. Moreover, the piano black fascia and 7-Inch Dynamic Drive Assist display modernises your vehicle dashboard and interior.