ALPINE ILX-702D 7" Apple CarPlay / Android Auto / HDMI / USB / Bluetooth / FLAC / DAB+ Receiver
Availability: Call to Order
Collection: Top Brands
Sku: ILX-702D
Brand: ALPINE
Innovation continues with the iLX-702D including Apple CarPlay and Android Auto providing the safety and convenience of phone connectivity in your vehicle. Apple CarPlay and Android Auto provides a multitude of smartphone options through your 7″ touchscreen, you can get directions, make calls, send and receive messages and listen to music all in a way that allows you to maintain full focus on the road. Just connect your smartphone and go.
When using Apple CarPlay and Android Auto, users can control elements of their smartphone through the 7″ capacitive display or activate Siri and Voice Recognition for minimised distraction.
Enjoy all your favourite audio with with a limitless amount of options such as Spotify, iHeart Radio, Podcasts and even DAB+ digital radio providing a wide range of digital only radio stations.
A wide range of entertainment options are made possible through the iLX-702D with HDMI and USB connection allowing for high quality video and audio playback. What's more DVD and CD's can be played back in high resolution with the optional DVE-5300 optical drive.
For a detailed list of apps that have been CarPlay approved by Apple, head over to their website here: http://www.apple.com/au/ios/carplay/
*Spotify can be used through Android Auto, Apple CarPlay and Alpine Connect for Android. 
Smartphone Navigation 
Apple CarPlay and Android Auto works seamlessly with the included GPS and Glonass antenna to provide an accurate navigation experience. With voice control you can set your destination or use the display to type in a location and begin driving. Plus, voice guidance gives you turn-by-turn instructions to keep you on your designated route.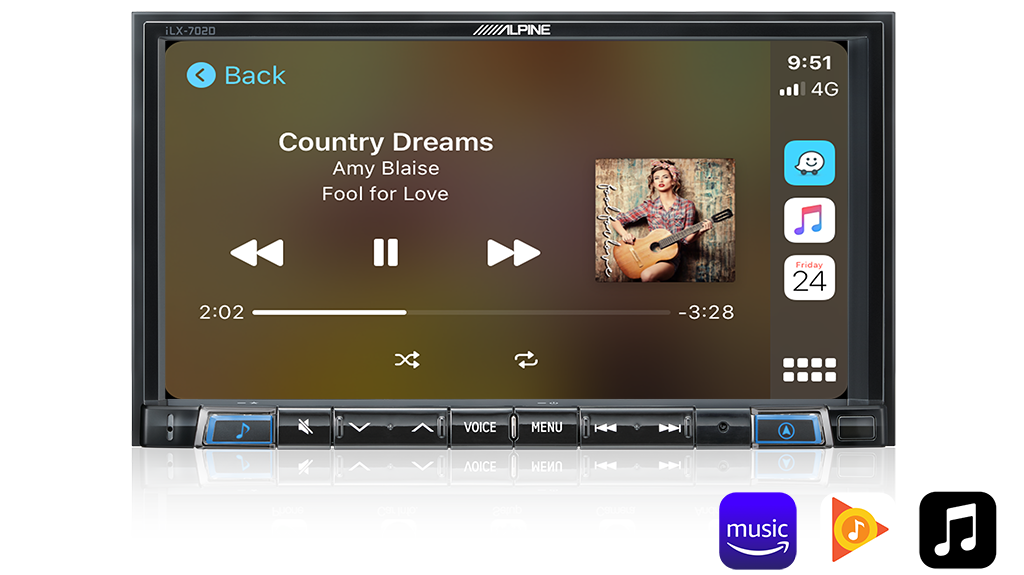 Audio Streaming Apps
With Apple Music onboard for Apple CarPlay you have access to 60+ million ad-free songs at your fingertips which you can search genres, artists, podcasts and expertly crafted playlists. With the use of Apple CarPlay or Android Auto, Amazon Music and Google Play Music provides limitless entertainment to stream or download songs from a list of over 40 million ad-free tracks. Amazon Music, Google Play Music and Apple Music are paid subscriptions.
Spotify
Access the worlds music library with millions of tracks and episodes available on Spotify. When using Apple CarPlay or Android Auto with the Spotify app, you can play the latest songs from your favourite artists, charts and playlists. Plus, browse through the collections of friends, artists, celebrities and radio stations all from the comfort of the driver's seat. Furthermore, get unlimited skips, no ad interruptions and much more with the Spotify Premium paid subscription.
Notifications
Android Auto provides you with a simple yet convenient tab to display incoming notifications such as text messages and phone calls. Incoming text messages automatically notify you via the display or you can browse through recent messages. From the display you have the option to either preview the message text or play the message via text-to-speech.