ALPINE iLX-W650E 7" Apple CarPlay / Android Auto / FLAC / MP3 / WMA / AAC / Bluetooth
Availability: Call to Order
Sku: iLX-W650E
Brand: ALPINE
Alpine introduces the iLX-W650E 7" touchscreen display including Apple CarPlay and Android Auto. Crafted with a cutting-edge design and a ultra-shallow chassis allows for easier installations and fitment into a wider range of vehicles.
The innovative dual swipe user interface puts you in control of your music and keeps your eyes on the road. Using two fingers, simply swipe up or down to adjust the volume and swipe left or right to skip between tracks. Built-in connectivity gives you Apple CarPlay or Android Auto to use apps such as Waze Navigation, Google Maps and Spotify music via the convenience of voice command or touch. Plus, the dual camera input allows connection of a rear camera and a side or front camera making parking easier than ever before.
Whats more, the ultra-shallow chassis design makes way to add-on the compact KTA-450 Power Pack amplifier (sold separately) which mounts directly onto the back of the chassis. This revolutionary space saving design, delivers incredible power output and dynamic sound—making the PowerStack duo an industry first and honoured with the prestigious 2019 CES Innovation award.
For any product updates, please refer to the Alpine Australia website only. Visit https://www.alpine.com.au/support/product-updates/ for available updates.
Smartphone Navigation 
Apple CarPlay and Android Auto allows the user to effortlessly command directions through voice control, allowing you to get from A to B with an accurate arrival time and turn-by-turn instructions. Plus, make a booking or call ahead with the location contact feature.
Audio Streaming Apps
With Apple Music onboard for Apple CarPlay you have access to 60+ million ad-free songs at your fingertips which you can search genres, artists, podcasts and expertly crafted playlists. With the use of Apple CarPlay or Android Auto, Amazon Music and Google Play Music provides limitless entertainment to stream or download songs from a list of over 40 million ad-free tracks. Amazon Music, Google Play Music and Apple Music are paid subscriptions.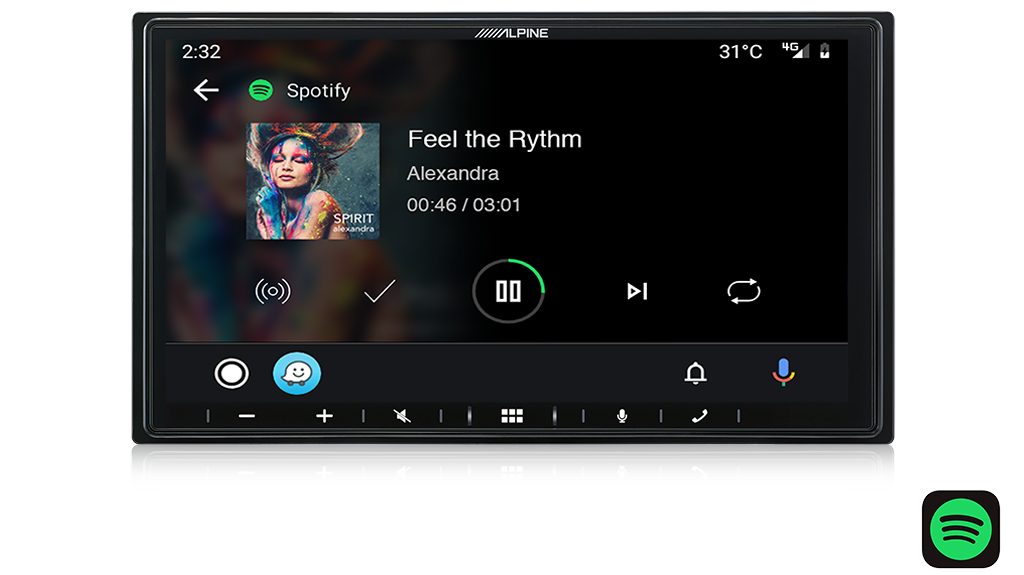 Spotify
Access the worlds music library with millions of tracks and episodes available on Spotify. When using Apple CarPlay or Android Auto with the Spotify app, you can play the latest songs from your favourite artists, charts and playlists. Plus, browse through the collections of friends, artists, celebrities and radio stations all from the comfort of the driver's seat. Furthermore, get unlimited skips, no ad interruptions and much more with the Spotify Premium paid subscription.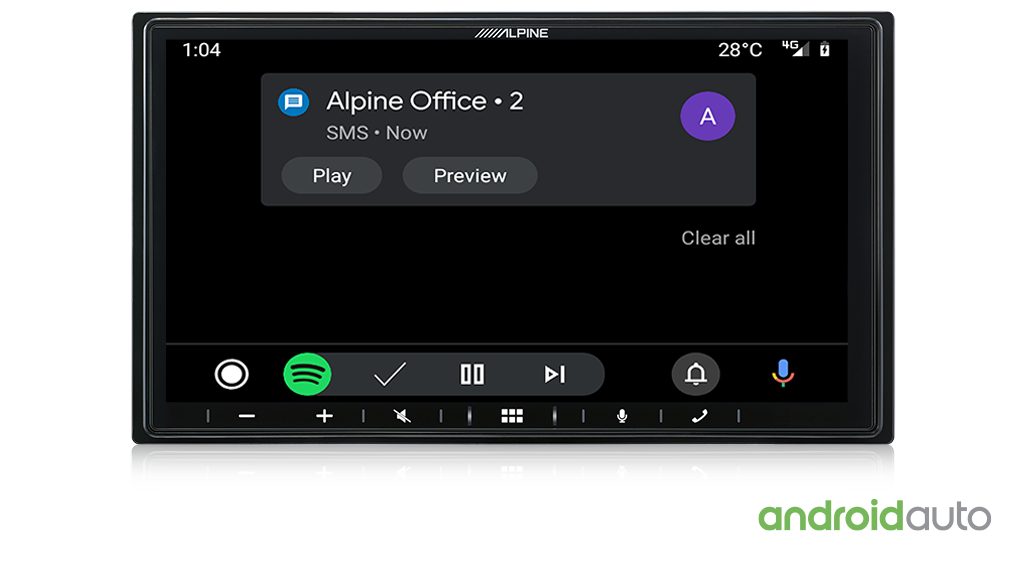 Notifications
Android Auto provides you with a simple yet convenient tab to display incoming notifications such as text messages and phone calls. Incoming text messages automatically notify you via the display or you can browse through recent messages. From the display you have the option to either preview the message text or play the message via text-to-speech.
Dual Swipe Interface
The dual swipe design is applied to be user-friendly. A two-finger swipe motion up, down, left or right will control either volume up or down and track skip back or forward. Plus, getting out of the swipe interface is simple by tapping anywhere on the screen to go back to the normal functionality. This is a smart safety feature which allows you to keep your concentration on the road ahead.